Of all nautical clothing, the pea coat is without a doubt the gold standard,
the one that has crossed the oceans to become a must-have in our wardrobes. In fact, the origins of the pea coat are found far from our shores. To find them, you must dive far to the south. The name of the pea coat, "caban" in French, comes from the Arabic "qaba". The bedouins of the desert were the first to wear this garment, which was much more like a cape than a thick coat.

Later, the qaba, worn by pirates, set a course toward Europe, where sailors started to adopt and adapt it as early as the 15th century. Beginning in the 18th century, the pea coat took its distinctive shape: short with a wide collar, bias pockets at the hips, and a crossed buttoning based on buttons decorated with an anchor. There was a good reason for this system: it allowed the coat to be closed in both directions, according to the direction of the wind. The colors became dark, most often navy blue or black.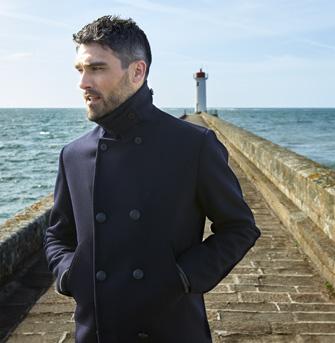 At the time, the pea coat earned its stripes as a warm and waterproof garment, which continues to be its reputation today. In France, it quickly became one of the emblems of the Navy and was part of the regulation uniform under the Second Empire (1853).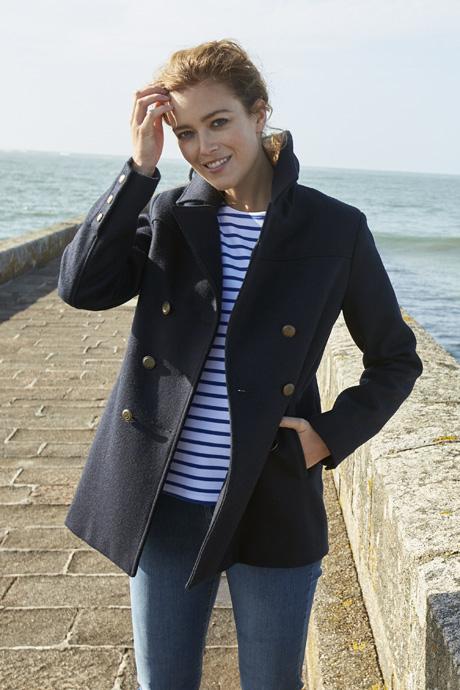 The eternal incarnation of adventure and travel...
Today, the pea coat has become widely democratized. Great designers picked it up, and fashion anchored it in daily life. It is no longer reserved for sailors and the military. Men and women can both wear it. Perhaps because it is the eternal incarnation of adventure and travel...

In any case, the pea coat is a functional garment, perfect for facing winter chills, rain or salty squalls on the high seas.

To meet an ever-growing demand, Armor Lux has developed a range of pea coats that charm all of its customers. Combining elegance and authenticity, its "Cap Sizun" and "Short pea coat" models are 100% wool and ensure perfect protection. The "Zipped" model is made of 70% wool, but has 10%... cashmere. When making clothing for adventure, there are no reasons not to take a few liberties, right?