The duffle coat is a monument to fashion.
The duffle coat is a monument to fashion. Both literally and figuratively. Its history was first woven in the 17th century in Belgium, in Duffelzandhoven, where the well-named duffel, a thick, black wool, was used to make the coats worn by the 17th-century navy. The coat quickly crossed the Channel and was adopted by England. There, it became the duffel coat, soon anglicized as "duffle coat", a warm and functional garment. Speaking of monuments: until World War Two, the duffle coat became one of the symbols of the Royal English Navy.

Beginning in the 1940s and 50s, the duffle coat freed itself from its military image, stock from the English army was distributed across the country, and little by little, it gained popularity among English and French students. It was an accessible garment that perfectly suited its time. In the 1960s, it was adopted by student protesters. Its success was never again called into question.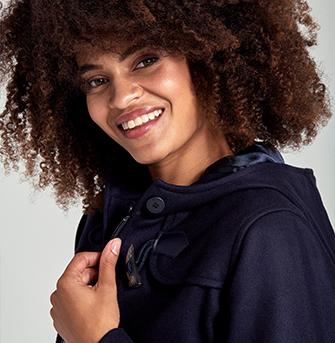 Monumental, the duffle coat is also large and wide, both literally and by its shape.
Traditionally, it is long or mid-length, although designers over the past few years have tended to shorten it and tighten the fit.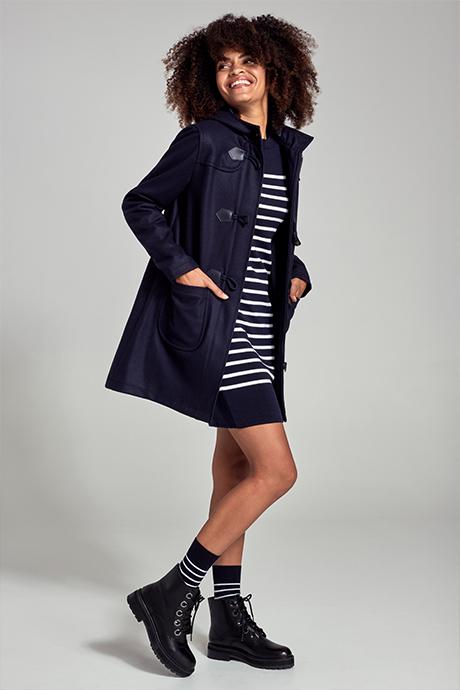 It isn't missing its characteristic elements, like its large patch pockets, its shoulder yokes, its large hood that used to hold the sailor's cap, and particularly its lapel. This is the most distinctive element of the duffle coat: a closure made of four buckles made of hemp rope (or leather), in which curved wood (or horn) cones are placed.

The history of its origin is divided: some claim that this closure system was used by the Prussian army so that its soldiers could open and close their uniforms even when wearing gloves. Others claim the same explanation, but apply it to sailors...

Today, this coat, originally for men, has become unisex. It is also no longer considered to be a bourgeois garment. In a word, it has conquered the world. A souvenir of its military origins, perhaps?