Hot, knitted in dense and thick wool... the real and only one, the sailor sweater.
The sailor sweater is, along with the oilskin, a clothing accessory that smells of the sea, the spray, and possibly a few capricious Breton summers.

But where does the sailor sweater come from? In France, history places its birth in the time of the rough, raw wool shirts that fishermen, especially in Brittany, put on as a second skin when they left for Newfoundland or Iceland and they needed to protect themselves from everything. From spray, wind, cold, ice...

Over time, the knit became tighter to insulate better and make this wool garment - which we can also call a "chandail" in French, by a curious linguistic shift - waterproof.

This may be linked to the Johnnies, the Breton fishermen or peasants who crossed the Channel to sell garlic and onions to the English. It is because they sometimes walked the streets crying "Marchand d'ail" ("Garlic merchant") that their wool garment was ultimately baptized "chandail" in reference to their moving sales technique.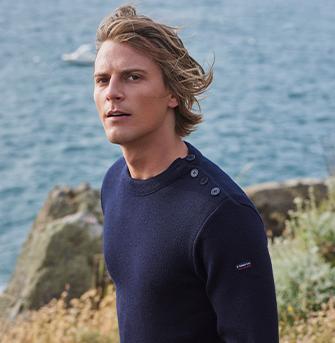 And well before that, this men's garment had been colonized by women, in colors going far beyond the traditional blue.

Because it is a timeless garment now worn by the greatest numbers around the world, Armor Lux has developed a very wide selection. Men, women, children, everyone can now find a sailor sweater that suits them, striped or not. There is no lack of styles. And they are all at Armor Lux.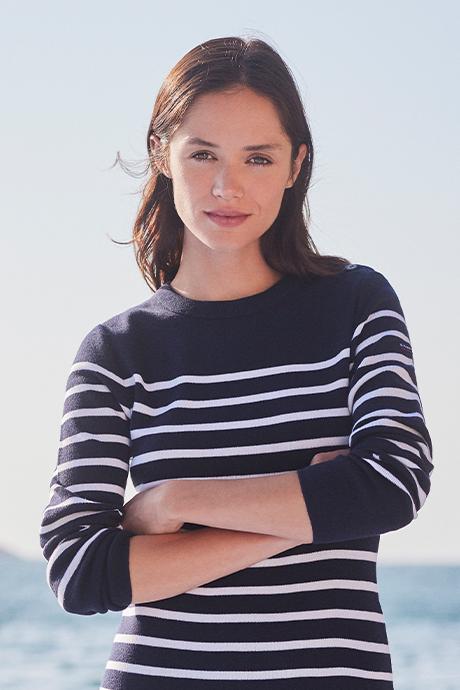 The famous three buttons
To be convincing, this Franco-English version is, however, less probable than the version claiming that its was in Les Halles, in Paris, that the garlic merchants gave the sweater a more French version than "pullover", the English term meaning the garment is pulled on over the head.

In the National Navy, too, the sailor sweater was part of the uniform of both enlisted and drafted men, who found this well-fitting accessory a consolation to having to serve under the flags and confront their seasickness.

The sailor sweater gathered wool for a few decades before knowing its hour of glory in the 1960s and 70s, when the impressive explosion of yachting made the sailor sweater a fashionable accessory, marked by the presence of three buttons on the side. They were there to make it easier to open, since it was sometimes hard to get your head through the simple collar. These three buttons became identifying, and this momentum pushed it well beyond yachting, since designers put sailor sweaters on podiums around the world. With or without stripes.