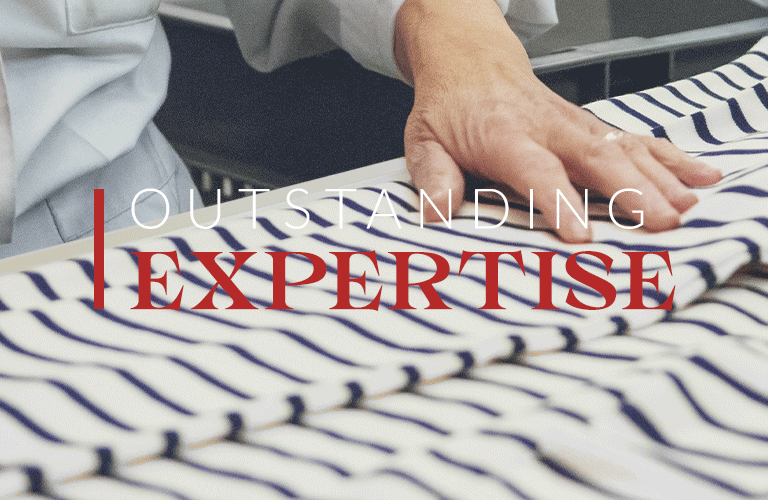 Armor-lux has always specialised in the production of knitwear, including its iconic sailor shirt.
Our brand has three textile factories in France, and this allows us to control all the stages of production, including: knitting, dyeing/embellishing, cutting, tailoring, embroidery, finishing and distribution.
Armor-lux relies on some of the best of knitting machines in Europe to produce the main types of solid-coloured or striped knitwear (jersey, ribbed, interlocked, etc.).

Expertise… in design!
Everything typically begins with an idea, then a sketch. This sketch becomes a prototype, which will then be given to the designers in our design office, a team of approximately 20 people. At this stage, we cut, we assemble, and we try on. We then re-cut, re-assemble and try on again until the prototype is perfect. Once the design has been approved, a grand orchestra of production begins…

Expertise…in knitting!
It all starts with a cotton thread that unwinds like a cocoon. It's selected with the utmost care and then knit in our workshops. Armor-lux specialises in the production of knit clothing, which is the preferred technique for producing jumpers, t-shirts, polo shirts, underwear and, of course, the sailor shirt which, over the years, has become the brand's iconic piece. Armor-lux has nearly 100 circular and rectilinear looms of varying gauges and diameters in its knitting workshops in Quimper. These allow for the production of large quantities of the main types of solid-coloured or striped knits (jersey, ribbed and interlocked) used in the production of cotton clothing and underwear. Fifty people pamper these legendary machines each day, the oldest of which date back to 1938.

Expertise…in declaring the colour!
Armor-lux also has its own dyeing workshop for dyeing its solid-coloured knits.
We use new generation reactive dyes which promote shorter and more robust dyeing cycles to reduce water and energy consumption. Striped knits don't go through the dyeing process, as they're knit with yarn that's already dyed.
All of our solid-coloured and striped fabrics are washed, wrung out, dried and ironed in order to guarantee the dimensional stability of the knits, one of the pillars of quality for the finished product. The Armor-lux dyeing workshop is STANDARD 100-certified by OEKO-TEX®, which guarantees the absence of chemical substances considered harmful or undesirable for human health and the environment.


Expertise...in constructing!
First step, the cutting workshop! Solid-coloured knits are machine cut, while striped knits are cut by hand, so the stripes line up perfectly. Finally, the articles are assembled in our garment workshop by a team of 100 specialists possessing exceptional dexterity and speed of execution. Armor-lux also has an embroidery workshop in Quimper for infinite customisation and for offering unique clothing items. We have always worked to strengthen our employees in these positions, thus preserving our company's long-standing expertise. These days, however, it's extremely difficult to find qualified people (due to the disappearance of diplomaed courses and the low image of industrial jobs, etc.) for a profession which now approaches a craft.

Expertise…in excellence!
Armor-lux has built its reputation on the quality of its products and services. All garments are checked at each stage to guarantee excellent quality and traceability. In Quimper, we have a Quality Department which is currently made up of approximately 20 employees along with an independent analysis laboratory* which conducts tens of thousands of physical and chemical tests each year. Our teams manage the following missions:
• the conformity of products to legal requirements and to our customers' specifications;
• the traceability of an article's manufacturing process;
• quality controls for raw materials and finished products;
• product safety and respect for consumer health;
• continuous improvement of the quality assurance system and customer satisfaction.

* Since 2011, the laboratory has been accredited according to the ISO/CEI 17025 standard (accreditation n°1-2305 – Scope available on www.cofrac.fr)

Expertise…in adding the final touch!
As a last precaution, our clothing is ironed, folded, labelled, wrapped and packaged before being stored in our more than 20,000 m² warehouse. It features multiple options for flat or hanging storage. From its logistics platforms in Quimper, Armor-lux distributes more than 5,000,000 articles per year. Logistical expertise ranges from home delivery of individual parcels to the delivery of complete collections for our 90 stores.
Our expertise is recognized by these certificates of excellence: